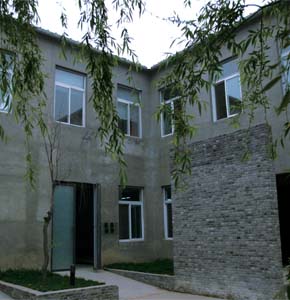 北京大地和谐文化艺术传播有限公司成立于2006年3月,下设BB画廊。公司立足于当代艺术,致力于国际交流,通过与各驻华使馆和国外重要画廊以及艺术家的合作,共同推广当代艺术,让中国人了解国外艺术,同时将中国艺术带向世界。
BB画廊在北京有两个展览空间:草场地空间和798空间。
BB画廊草场地空间位于北京新兴的当代文化艺术区——草场地艺术东区B区249-3号,与798大山子艺术区相距1公里左右。取名BB,希望有一天从北京(Beijing)走向巴塞尔(Basel),成为最好的画廊。BB画廊拥有高达5米,约360平方米的展厅,支持包括视觉艺术、行为艺术及新媒体艺术等多种艺术形式。参观者主要类型为艺术家,艺术经纪人,相关艺术从业者,学生,艺术爱好者和收藏家,行业主要是金融业、证券业、房地产、制造、贸易、传媒。
798展示空间位于798艺术区内的中心地带——酒仙桥路2号工美楼2层,展厅面积约43平米,是BB画廊在798的窗口。
公司拥有驻地艺术家工作室,位于北京顺义区万科城市花园内,内部配备完备的生活工作设施,为艺术家在北京提供驻地创作舒适优美的空间。
Beijing Sustainable Culture& Art Communications Ltd. was founded in March 2006. It includes BB Gallery. The company specializes in contemporary art and commits to international exchange. It with the embassy in China, important galleries abroad and other international institutions to promote contemporary art to let the Chinese people know the foreign art, in the mean time bring the Chinese art to the world.
BB Gallery has two exhibition spaces in Beijing: Caochangdi Space & 798 Space.
BB Gallery Caochangdi Space is located in the emerging contemporary arts and culture district----East End Art Zone B, Caochangdi 249-3, and about 1 km away from 798 Dashanzi Art Zone. We named the gallery is BB because we hope that one day we can go out from Beijing to the Basel and the BB becoming the best galleries in the world. BB Gallery's exhibition hall is about 360 square meters large and about 5 meters high, which can support various art forms like visual arts, conduct arts and new media arts, etc. The visitors are mostly artists, art dealers, art-related stuff, students, art lovers and collectors, who are mainly in the area of financial, securities, real estate, manufacturing, trade and media.
BB Gallery 798 space is located in the center of the 798 art zone----Gongmei Building, 2 Jiuxianqiao Road, Chaoyang, Beijing. The exhibition hall is about 43 square meters which opens the window of BB Gallery in 798.
The company currently has international artists' studios located in Vanke City Garden, Shunyi in Beijing. The studios have perfect living and working space, which can provide the artists a pretty comfortable space to work here in Beijing.